By Board-certified Practitioners
Juvederm Voluma
Plumper Cheeks.
Add Volume To The Cheeks
Voluma is an FDA approved dermal filler used for treating volume loss and deep wrinkles, which results from natural aging. Voluma will instantly add volume to your aging cheeks and will create contour and a subtle lift giving you a natural youthful appearance that lasts up to two years. Our experienced licensed injectors will work with you on the most suitable dermal filler to address your concerns and give you refreshed natural look. Get those benefits and get Brilliant Distinction points with every treatment.
FDA-approved, nonsurgical
No downtime, lasting results
Helps restore contour for up to 2 years
Instantly add volume to your cheek area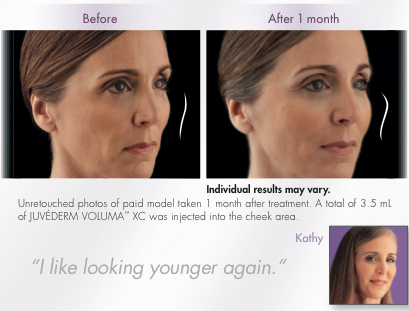 What is Juvéderm Voluma XC?
Juvéderm Voluma XC is an FDA-approved, non-surgical, injectable gel that volumizes the cheeks area. It is the only treatment in the world that was developed specifically to restore facial volume. Juvéderm Voluma XC plumps the skin from the subdermal layer. It adds actual volume to the cheeks and mid-face, letting you defy gravity with natural looking results.
How it works
Traditional anti-aging treatments focus on tackling specific wrinkles and fine lines. Voluma® takes a different more holistic approach to injectable facial rejuvenation by adding extra volume to the cheek area. Voluma® corrects wrinkles and fine lines in the surrounding areas in a way that looks and feels natural.
Simple non-surgical treatment
JUVÉDERM VOLUMATM XC is injected under the skin with a small needle. It works instantly to add volume and subtly lift the cheek area, temporarily reversing this sign of aging. To reduce pain during the procedure, JUVÉDERM VOLUMA XC contains a numbing agent called lidocaine. The procedure gives you a more youthful profile and lasts up to 2 years with optimal treatment.
Amazing long-lasting results
Over time, loss of volume in the cheeks area can lead to wrinkles, fine lines, and an older-looking, less attractive appearance. Voluma® is a simple and easy injectable that is designed to give you a younger look for up to two years without downtime or prolonged discomfort.
One of our great aesthetic treatment options at Florida Aesthetics and Wellness is Juvederm Voluma. This is an FDA-approved dermal filler which works effectively to counter volume loss and very visible wrinkles. This is a minimally invasive, nonsurgical treatment for natural signs of aging.
Juvederm Voluma instantly adds volume to your cheeks, and Juvederm Voluma lips treatment can be used to volumize your lips. Specifically made to correct age-related volume loss, Voluma injections also correct wrinkles and fine lines. A small needle is used to inject the gel under the skin, and effects are immediate. A numbing agent is used to reduce pain during the procedure. Results can last up to two years.
However, you should sustain from the treatment if you're under 21, have ever had severe allergies, anaphylaxis or other severe allergic reactions, allergic to lidocaine or the gram-positive bacterial proteins used in Juvederm Voluma. Other contraindications include being pregnant or breastfeeding. The safety of Voluma in patients over 65 years has not been studied.
Our board-certified injectors do a great job to select the most appropriate dermal filler for your needs, and to ensure your treatment leaves you feeling and looking rejuvenated and more youthful. Cost of Juvederm Voluma treatment depends on the amount of Juvederm Voluma used and area of treatment. To learn more, please do not hesitate to call our Brandon office which serves the Tampa Bay area.
Frequently Asked Questions
Is Juvéderm Voluma XC a substitute for dermal fillers?
Voluma is different from other dermal fillers and it is not intended to replace them. Voluma complements other products like Juvéderm® Ultra and Ultra Plus. Basically, Voluma volumizes and plumps and Juvéderm Ultra and Ultra Plus fill lines and wrinkles. They achieve dramatic results if used together.
How long will Juvéderm Voluma XC last?
You should expect immediate results after one Juvéderm Voluma® treatment, which could last between 12 and 18 months.
Am I a candidate to get Juvéderm Voluma XC?
You would be an ideal candidate to get Juvéderm Voluma® if you experience facial volume loss, facial asymmetry, hollowness, drooping and sagging caused by age or weight loss.
Does Juvéderm Voluma treatment hurt?
Juvéderm Voluma® contains a small amount of lidocaine that should lessen the feel of the initial prick. A topical anesthetic applied to the injection area offers additional relief.
What should I expect after the Juvéderm Voluma treatment?
There is little to no downtime with a Juvéderm Voluma® treatment and you should be able to resume your normal activities immediately. It is highly recommended that you should avoid sun exposure, alcohol, and strenuous exercise for 24 hours after the treatment.
Mild tenderness, swelling, lumps or bumps, bruising, redness or itching at the site of injection are expected after the treatment. All symptoms will clear up within one to four weeks after the treatment.